Performance above standards
We provide the best performance possible in within all our services, But when it comes to WordPress headless CMS, things get better and better. Adding Node.js to the stack leads to even higher performance that you can enjoy.
Instant Page Loads
 Experience incredible speed thanks to server-side rendering and static site generation.
Global CDN
Deliver your content faster to users worldwide with our robust content delivery network.
Caching and optimization
Fear no traffic spikes. Our platform automatically adjusts to handle surges in traffic, ensuring your site remains fast and available.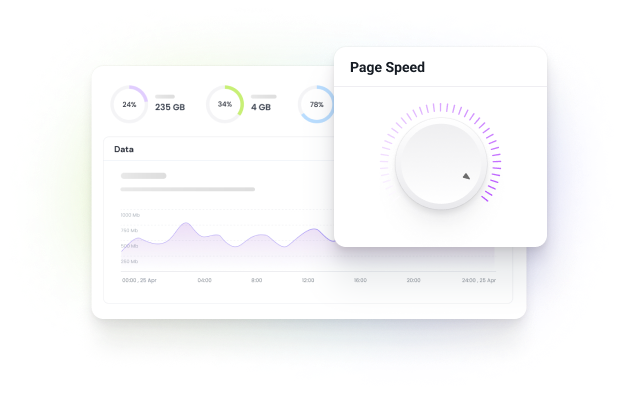 connected to
cloudflare
connected to the world
Cloudflare is known for its ability in web security and for providing the best performance. That is why we use this platform's service in our service, to make our customers sure there is nothing to worry about. With Cloudflare, there is no DDoS attack, and you will have an automatic SSL certification. Also, Cloudflare CDN, with servers in more than 200 cities worldwide, provides high speed for your website.
Check it out
Build and Deploy with the Tools You Love
Headless WordPress hosting empowers you with the flexibility to select the front-end technologies that best fit your needs. Use your favorite front-end tools, frameworks, and languages to create stunning websites and apps.

Developer-Friendly
Take advantage of potent implements including version control with Git, development and production sites, staging servers, continuous integration, deployment automation, auto-scaling, and other capabilities.

Freedom to Choose
Utilize React, Vue.js or Angular to craft the frontend portion according to your preferences and requirements while employing any other front-end framework or JavaScript library that works best for your specific website objectives.

Seamless Integration
Link your JavaScript based user interface to your WordPress headless cms employing frameworks with our website platform's content management data and functionality through the REST API or GraphQL.
Expert Support When You Need It Most
Our team of WordPress experts is available 24/7 to assist you with any questions or issues you may have. With fast response times and a genuine passion for helping our clients succeed, you'll never feel alone in your multisite journey.
24/7 Expert Support
Reach out to our team via live chat, and get the help you need, when you need it.
Knowledge Base
Access our knowledge base, filled with articles and guides to help you get the most.
Monitoring system
Prometheus is an open-source monitoring solution which decrease the possibility of breakdowns and disasters.