Faster Than the Competition
Our WordPress multisite hosting infrastructure is built on the latest technology, powered by Zone it Cloud Platform, and optimized specifically for WordPress multisite networks. Experience fast load times that leave your competition in memories.
Cutting-edge infrastructure
Our servers are powered by the latest generation of hardware to ensure optimal performance and reliability for multiple website hosting.
Cloudflare CDN
Our content delivery network spans across the globe, ensuring lightning-fast load times for your visitors, no matter where they are..
Caching and optimization
We use advanced caching techniques and server-level optimizations to guarantee the fastest possible load times for your network.
connected to
cloudflare
connected to the world
Cloudflare is known for its ability in web security and for providing the best performance. That is why we use this platform's service in our service, to make our customers sure there is nothing to worry about. With Cloudflare, there is no DDoS attack, and you will have an automatic SSL certification. Also, Cloudflare CDN, with servers in more than 200 cities worldwide, provides high speed for your website.
Check it out
The Dashboard Built for best WordPress multisite hosting
One-click PHP version switching
You gain the flexibility to use multiple PHP versions, avoiding the manual PHP upgrades and troubleshooting.
redirect management
organization, visibility and control you need to efficiently manage a large number of URL redirects for your website.
Various types of backups
Create full, database, and file backups of your site with options to schedule automatic backups.
File manager
Access and manage all the files and folders for your site through an easy-to-use file manager.
Theme and plugin manager
 Install, activate, update, and delete themes and plugins from an all-in-one manager.
Free SSL certification
Secure your website visitors' data and privacy, Make their connection to your site fully encrypted using the SSL.
Scale Your Network Effortlessly
As your multisite network grows, so does our hosting platform. Our scalable architecture allows you to easily add new sites and handle increased traffic without any performance hiccups.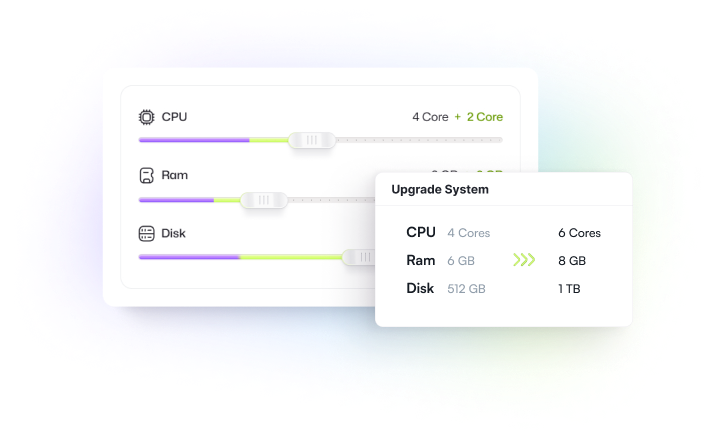 Vertical scaling
Upgrade your hosting plan at any time to accommodate growing traffic and resource demands.
Horizontal scaling
Easily add new sites to your network without worrying about performance degradation.
Resource monitoring
 Keep an eye on your network's resource usage and optimize your sites for maximum efficiency.
Expert Support When You Need It Most
Our team of WordPress and multisite experts is available 24/7 to assist you with any questions or issues you may have. With fast response times and a genuine passion for helping our clients succeed, you'll never feel alone in your multisite journey.
24/7 Expert Support
Reach out to our team via live chat, and get the help you need, when you need it.
Knowledge Base
Access our knowledge base, filled with articles and guides to help you get the most.
Monitoring system
Prometheus is an open-source monitoring solution which decrease the possibility of breakdowns and disasters.